7 September 2022
OSME members gathered for the first time in Vaasa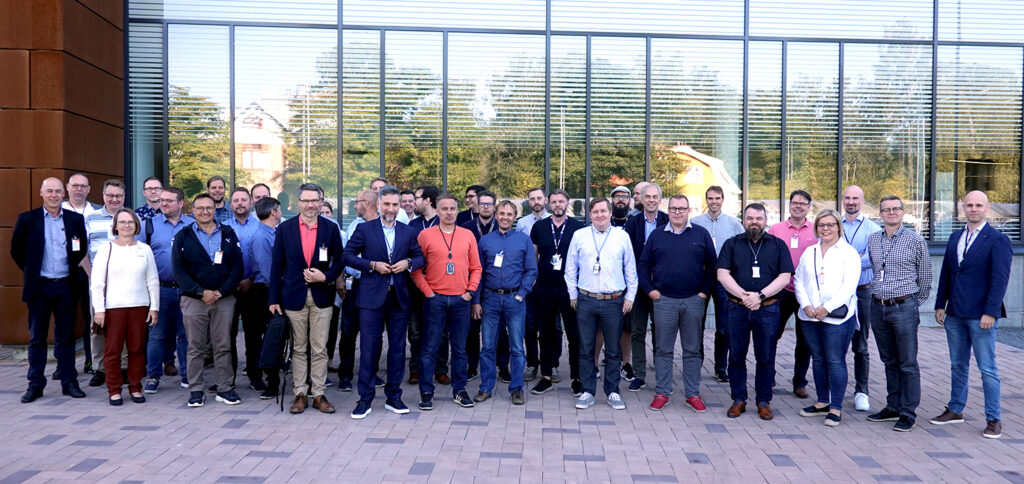 This August, on the 24th and 25th, members of the Open Smart Manufacturing Ecosystems (OSME) came to Vaasa to meet in person for the first time since the founding of the initiative in 2021. The venue for this event was Wärtsilä's Sustainable Technology Hub (STH) and its newly finished building complex. In addition to being the place for Wärtsilä's engine manufacturing, STH promises to be an exciting ecosystem for co-creation and thus the perfect common ground for the first OSME workshop. The two-day gathering was opened by Vesa Riihimäki, Director, Delivery Management of Wärtsilä, and Juha Päivike, Chairman of MEX Finland. The event included a tour of the new Sustainable Technology Hub and a site visit to Kilkanen Oy, a company that specialized in demanding machining and flywheels as a subcontractor in power and marine industries. At dinner on Wednesday evening, the participants were joined by Sture Udd who gave an inspiring talk while he presented his work for the Wasa Innovation Center, driving innovation collaboration in the Ostrobothnia region.
The Vaasa workshop was an excellent learning opportunity for all participants. Faces familiar from Teams were now together in one room, and the intensity of the discussions showed the need to engage further in our common mission. At the same time, the workshop illustrated the different perspectives of the companies participating in OSME.
Leinolat Group, Prohoc, and Tasowheel have a very strong interest in driving the development, as Wärtsilä is a key customer for them. Improving collaboration is a way for them and Wärtsilä to improve their competitiveness.
Fastems and Roima Intelligence, in turn, can benefit from OSME in their software development, enabling them to offer similar solutions to many other customers outside OSME. This makes them important co-learning facilitators on the common elements in OSME-developed solutions not only for Wärtsilä but also for other large companies such as Sandvik, ABB, and Valmet Automotive.
Wärtsilä, as a global, 17 000-employee organization, has a more complex internal architecture when integrating learning and execution. For Wärtsilä, the OSME project is only one in a large portfolio of supporting projects pursuing their goal of decarbonizing the Marine and Energy sectors. Therefore, the marching order of changes in the day-to-day routines of Wärtsilä must be adapted to other significant transitions taking place in the organization., Subsequently, other partners in OSME must be able to recognize the real clock speed of various activities taking place within OSME.
To ensure the expectations of all OSME partners are properly understood, it is important that we can openly discuss these across the community. This was notably supported by the Vaasa workshop wherein new participants from the different OSME partner organizations could get to know each other in person. By increasing the overall communication across the OSME network, we will also become better at jointly understanding what is important and communicating this more effectively to other stakeholders. Thereby, we will continuously shorten the time span between learning and execution.
If you want to know more about OSME, please contact Christian Sundman of Wärtsilä (forename.surname(a)wartsila.com) or Niklas Koski of Synocus (forename.surname(a)synocus.com).